Fun for All!
Slot machines were originally invented sometime at the end of the 19th century. The origins of the machine date back to 1881, when Sittman and Pitt from Brooklyn, New York came up with a unique gambling machine. This would go on to become the predecessor for the original slots machine.
The concept of the machine was quite simple; it contained five drums that had 50 cards around the sides. The game was based on poker, and it wasn't long before the popularity of the machine took off. It didn't take long before the machine began to appear in almost every single bar and arcade center around the city. All players had to do was insert a nickel and then pull a lever. The drums would start spinning, and the player would hope for a decent hand of poker. At the time, there wasn't any payout mechanism in place; every local establishment had the option of setting whatever prizes they deemed fit.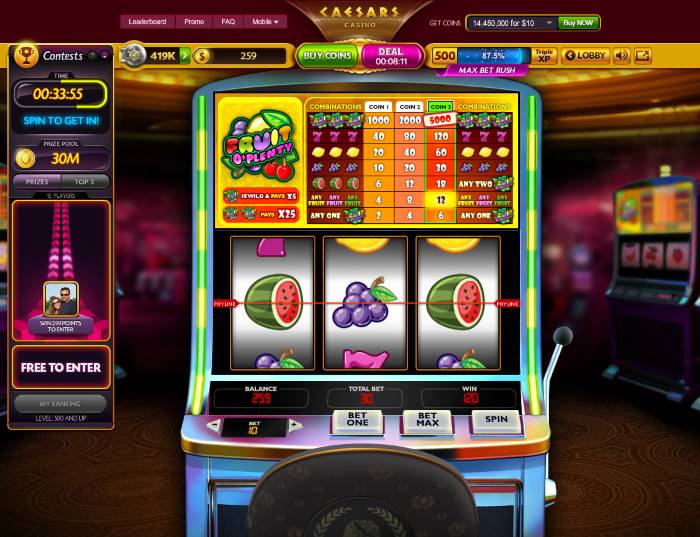 After around five or six years, Charles Fey of San Francisco came up with the machine that eventually rose to popularity as the original slots machine. He reduced the number of drums from five to three, and rather than focusing on card faces, he decided to go with random symbols. This was the first iteration of what would eventually become the modern fruit machine (slots machine). This machine allowed people who didn't know any card games, such as poker or blackjack, to try their hand at the slots machine as well. The early machines are still kept in museums, showcasing and honoring Fey's intelligent design.
How to Play
Playing the fruit machine (slots machine) isn't a problem at all. Even if you don't know any card games, you can have a lot of fun in front of the slots machine. The classic fruits machine features numerous fruits, with grapes, watermelons, and lemons on the faces. You can place your bet by using the given arrows on the left and then press "Bet One" to multiply your bet. If you get all of the same faces in one row, you will win the maximum payout. That's just how it is; it's all about luck at the end of the day.
Online
You can also play slots online if you wish to do so. If there isn't a casino nearby and you are in the mood for gambling, you can just sign up online at Caesar's Casino and start playing!