Legacy Bonus is the brand new Daily Bonus! Spin the Legacy Bonus once a day for FREE and go on a time travel journey for FREE coins. If you wish, you can spin once more for a small fee and receive a premium Legacy Bonus, offering you even MORE coins.
Breakdown of the Legacy Bonus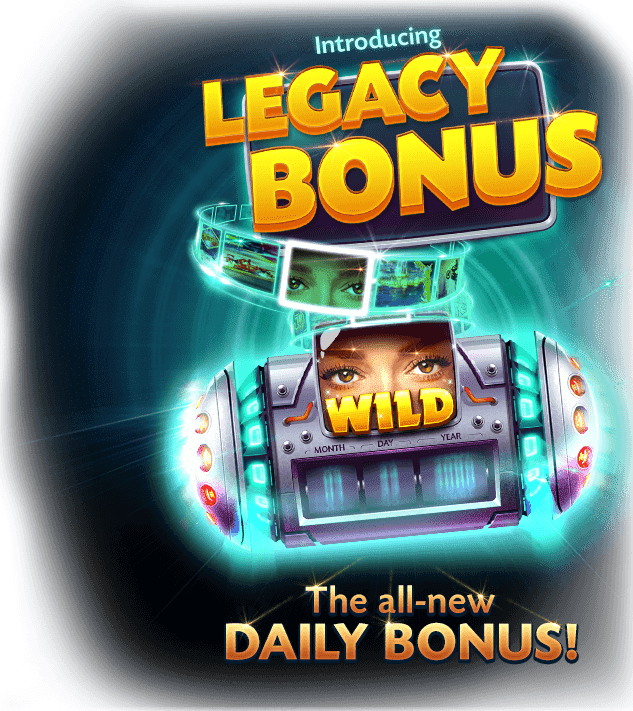 1. With every spin, you will receive a coin bonus reward along with a Vegas, Caesars Palace, or Caesars game historical event.
a. Each event belongs to 1 out of 5 groups:
i. Early Days – Events that happened from 1869-1959
ii. Viva Las Vegas – Events that happened from 1960-1979
iii. Rising Stars – Events that happened from 1980-1999
iv. Bright Lights City – Events that happened from 2000 – Today
v. Virtual Highlights – Events that took place in Caesars game
b. If you happen to collect more than 1 event from the same group in the last 5 days,
your reward will be boosted:
i. 2 of the same group: +20%
ii. 3 of the same group: +50%
iii. 4 of the same group: x4
iv. 5 of the same group: x10
*For example, if you just collected your 3rd event from the "Early days" group within
the last 5 days, with a reward of 1,000,000 coins, then your daily reward will be
1,000,000 + 50% = 1,500,000.
2. Every event you have collected will be saved in the Gallery under its corresponding group.
Each time you complete all the events of a group, you will get an extra event bonus.
Additional Facts
1. Fortune can appear at any time to boost your bonus and act as a WILD, which will automatically improve the current sequence you achieved!
2. In case you forgot to spin your Legacy Bonus a certain day, don't worry! You will have the option to purchase a "Fill Spin" to increase your chances for better rewards.